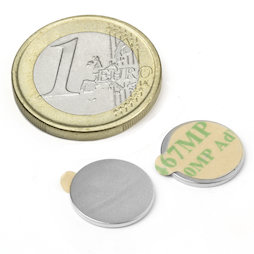 Disc magnet self-adhesive Ø 13 mm, height 1 mm
Neodymium, N35, nickel-plated
Description
A convenient solution if you want to glue on a disc magnet. This is a very flat disc magnet (13 mm diameter, 1 mm thin) with one self-adhesive side. Simply remove the film and stick it on. With this magnet, any surface quickly turns into a notice board and photos can be hung anywhere without causing puncture marks. These self-adhesive magnets are shipped in pairs. For example, if you order 20 pieces, you will receive 10 magnet pairs.
Please note: Self-adhesive magnets need to be placed, pressed and dried on suitable surfaces to adhere properly. Please read our
FAQ about self-adhesive magnets
.
Read about more features and tips
Technical data